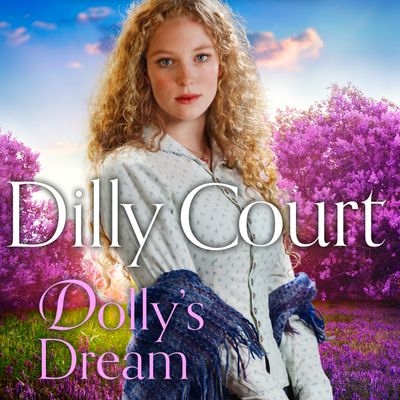 The Rockwood Chronicles - Dolly's Dream
(The Rockwood Chronicles, Book 6)

: Unabridged edition

By Dilly Court, Read by Annie Aldington
Don't miss the latest utterly heartwarming instalment of the Rockwood series from the No.1 Sunday Times bestselling author Dilly Court!
Dolly's dreams could lead her astray . . .
Dolly Blanchard dreams of a bigger life. She wants to make a mark on the world, not simply wait for a husband to come along. So when an impoverished actress offers her a lifeline, Dolly flees to London, determined to make it on the stage and prove to her family – and herself – that she can strike out alone.
But the dark city streets are full of danger. With her dreams fading to dust, Dolly soon finds herself in peril. And with the family's future under threat at Rockwood Castle, and secrets tumbling out of the shadows, she faces a difficult choice.
Will her heart call her home?
Dilly's novel Sunday's Child hit #1 in the Sunday Times bestselling charts the w/e 25th June 2022.
Readers LOVE Dolly's Dream!
'This book, like all the other books in the series, was excellent. I just couldn't put it down. It was filled with mystery and romance from beginning to end' ⭐⭐⭐⭐⭐
'Dilly's ability to bring the era alive the characters into believable entity's and the colourful expression and great pace leaves me, the reader, never wanting it to end!!' ⭐⭐⭐⭐⭐
'Dilly Court never fails, excellent read!' ⭐⭐⭐⭐⭐
Praise for Dilly Court: -
"'Feisty female characters to fall in love with in a spirited, adventurous novel" - Sunday Express
"'Dilly Court's latest novel is another page-turner that will keep you gripped to the end - 5 stars" - The People's Friend
"'As always Dilly keeps you absorbed right to the end" - Choice
"'A rollicking, fast-paced adventure with a hint of romance!" - My Weekly
"'Spellbinding . . . you just keep turning the pages" - Daily Mail
"'Perfect for Downton Abbey fans … heart-tugging" - Peterborough Telegraph