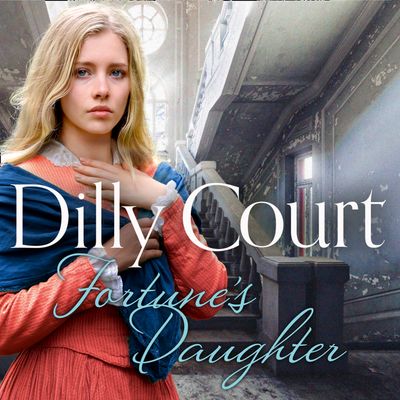 The Rockwood Chronicles - Fortune's Daughter
(The Rockwood Chronicles, Book 1)

: Unabridged edition

By Dilly Court, Read by Annie Aldington
Don't miss the brand-new heartwarming novel from the No.1 Sunday Times bestselling author Dilly Court!
Rockwood was home and she would do anything she could to stop it being stolen from them.
Abandoned by their parents and left to fight for themselves, headstrong Rosalind Carey has no choice but to take charge of her younger brothers and sister in Devonshire's grand Rockwood Castle. But their once much-loved home is crumbling like the family that lives within it.  Living hand to mouth and desperate to provide for the estate that depends on them, the Carey family are one debt away from ruin. Until the day comes when the dashing Piers Blanchard appears on their doorstep from Cornwall, claiming he is Rosalind's distant cousin and that Rockwood Castle is his.
Piers says he wants to help pay off the family's debts. But how can Rosalind be sure he isn't out to take what is his and leave them all homeless? Only a closely-guarded secret will convince Rosalind she can trust Piers to protect her family – and her fragile heart.
Book One of The Rockwood Chronicles
Reader reviews for Fortune's Daughter
'I literally could not put this book down'⭐⭐⭐⭐⭐
'Dilly Court never disappoints . . . gripping and highly entertaining' ⭐⭐⭐⭐⭐
'It is so easy to immerse oneself in the story and feel part of it' ⭐⭐⭐⭐⭐
'If you love family saga, you will definitely love this'⭐⭐⭐⭐⭐
'There are so many twists and turns along the way' ⭐⭐⭐⭐⭐
'A brilliant start to the series!' ⭐⭐⭐⭐⭐
'Loved this book from start to finish' ⭐⭐⭐⭐⭐
Praise for Dilly Court: -
"'Feisty female characters to fall in love with in a spirited, adventurous novel" - Sunday Express
"'Dilly Court's latest novel is another page-turner that will keep you gripped to the end - 5 stars" - The People's Friend
"'As always Dilly keeps you absorbed right to the end" - Choice
"'A rollicking, fast-paced adventure with a hint of romance!" - My Weekly
"'Spellbinding . . . you just keep turning the pages" - Daily Mail
"'A fast-paced, riveting read" - Sunday Express
"'A heart-warming, fast-paced story that will keep you gripped till the end" - The People's Friend
"'Feisty female characters to fall in love with in a spirited, adventurous novel" - Sunday Express
"'Atmospheric, vivid and compelling" - My Weekly
"'An excellent, well-researched read" - People's Friend
"'Perfect for Downton Abbey fans … heart-tugging" - Peterborough Telegraph