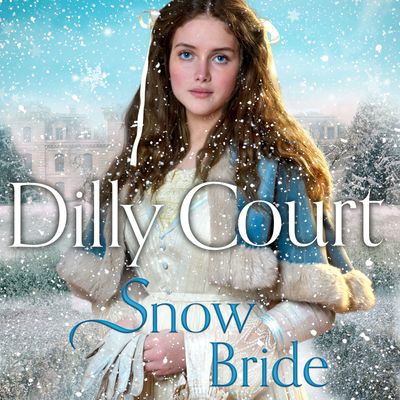 The Rockwood Chronicles - Snow Bride
(The Rockwood Chronicles, Book 5)

: Unabridged edition

By Dilly Court, Read by Annie Aldington
Don't miss the fifth book in the heartwarming six-part series from the No.1 Sunday Times bestselling author Dilly Court!
'I foresee happiness for you, Nancy. I hear bells and I see snow, and your heart's desire comes true'
A chance encounter brings Nancy Sunday to the streets of London, where she finds herself amongst a band of street urchins.
Her heart may have been broken by love but it's big enough to help those less fortunate than herself, and Nancy takes these unloved orphans in – but when one of them is accused of a serious crime, the neighbourhood turns against her.
The colder the cruel grip of winter grows, the more mouths she finds herself having to feed. Can Nancy's good heart and strength bring them all through?
Dilly's novel Sunday's Child hit #1 in the Sunday Times bestselling charts the w/e 25th June 2022.
Praise for Dilly Court: -
"'Feisty female characters to fall in love with in a spirited, adventurous novel" - Sunday Express
"'Dilly Court's latest novel is another page-turner that will keep you gripped to the end - 5 stars" - The People's Friend
"'As always Dilly keeps you absorbed right to the end" - Choice
"'A rollicking, fast-paced adventure with a hint of romance!" - My Weekly
"'Spellbinding . . . you just keep turning the pages" - Daily Mail
"'Perfect for Downton Abbey fans … heart-tugging" - Peterborough Telegraph